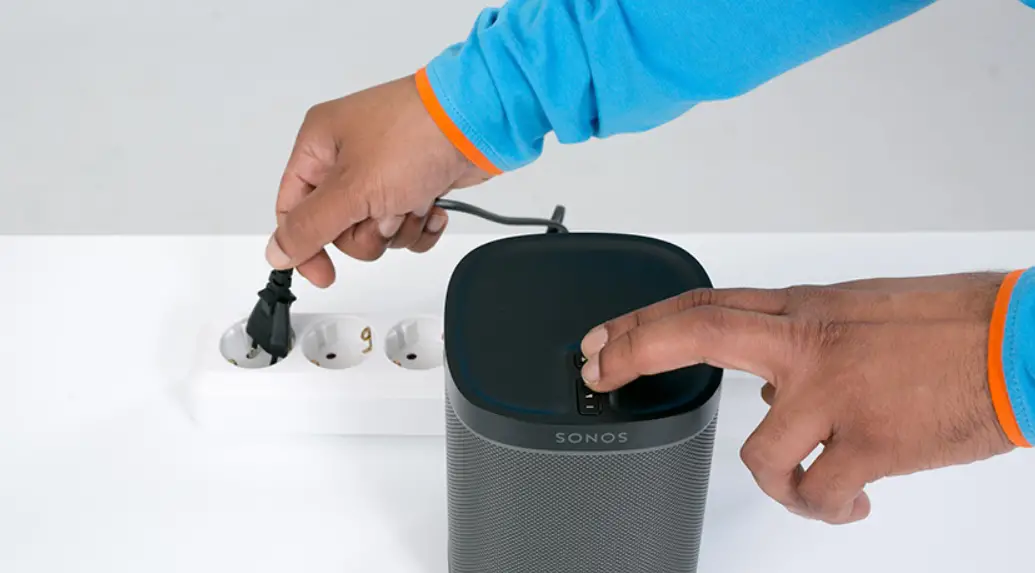 Sonos is a popular brand when it comes to room speakers. With multiple products available from the manufacturer, it is likely that you may get your hands on a Sonos speaker. While they are pretty good with the sound and you tend to get a great audio output, there are instances when things may go wrong with it. So, you may have to reboot or reset the speaker and here is how to reset sonos speaker. Keep in mind that there are different methods for resetting the speaker. Which one will work for you? Well, it depends on the model you own.
What is the difference between factory resetting and rebooting?
There is difference between restart and reset. Restarting, often known as rebooting the speaker, and resetting it are two completely different things. As you reboot, you turn off the speaker and then turn it on again. This process assures that any data or settings you have applied are safe and will be kept the way you have set them. However, factory resetting is about wiping the data and putting the device in a state as if it was coming out fresh from a factory.
Generally, factory reset is preferred option for people who are looking to transfer the ownership of an item. Moreover, factory reset is also done when you come across a particular problem that you are unable to eliminate by changing the setting or rebooting your speaker. However, if you are simply moving your speaker from one place to the other or attaching it with another router, you might be able to make changes just by rebooting the device.
Rebooting a Sonos speaker
Before you proceed with resetting the speaker, you should try rebooting it. This may solve the problem on hand and your speaker might start functioning appropriately.  To reboot your speaker, do the following:
Take out the powercord from its outlet or remove its link from the back of the speaker
Wait for about 10 seconds for the speaker to shut off completely
Attach the cord and plug it into the outlet
Give a minute or so to your speaker for rebooting
This will restart your speaker and is likely to fix many problems for you. However, if it does not provide a solution, you must consider resetting your device.
How to reset Sonos speaker?
If the problem still persists, you may like to try and factory reset your Sonos speaker. There are 3 different ways in which you can reset a Sonos audio device and which one works for you depends on the speaker you are using.
Method #1
First of all, unplug your speaker from the outlet. Then, press the play/pause button and hold it down for a few seconds. Plug the speaker back into power outlet and make sure that you are still holding the play/pause button. After a few seconds, you will see a white/amber light flashing on your speaker. It indicates that the factory reset is in progress. Once the reset is complete the flashing light will turn green.
This method of reset will work on the following devices:
Play 1
Playbar
Connect
Play 3
Play 5 (generation 1)
Connect:Amp
Method #2
For the second method, start in a similar fashion by taking out the plug from power outlet and cut off power input for your speaker. Then, press and hold the button with connect icon as you put the plug back into its power outlet. Make sure that you are still holding the button as you plug in your speaker. As a few seconds pass by, a white amber light will start flashing on your speaker. It is an indication that the factory reset has initiated. Once the process is complete, the flashing light will turn green.
This method will work for the following models:
Amp
Sonos One
Playbase
Sonos Beam
Bridge
Play 5 (generation 2)
Boost
Sub
Method #3
Remove your Sonos device from its charging base and press the power button. Hold it down for about 5 seconds and then press the connect button as you put the speaker back on charging base. Keep on holding the connect button until you see a white and amber light flashing on your speaker. Soon, it will turn into green, marking the completion of reset process.
This method will work for:
Resetting Sonos Controller
There are instances when you may wish to reset your Sonos controller as well. In that case, you need to switch to Sonos app.
Start by opening up the app and there you will see a 'more' button. Tap on it and you should see an option of 'settings.' After clicking on 'settings' button you will reach another menu with 'advanced settings' option. By tapping 'advanced settings' you will see an option of 'reset controller' from where you can reset the settings of your control. Hit that button and the controller will be reset to default.
How to set up Sonos speaker with a router?
You can follow a standard setup procedure to connect your Sonos speaker with your router. Simple, put the speaker within your WiFi range and plug it into a power outlet. Download Sonos app in your mobile or PC and install it.
Open the application and choose 'set up new Sonos system.' From there, click on 'standard setup' and choose the model of the speaker you wish to set up. Once you make the selection, the app will guide you about which buttons to hold and which to process in order to set up speaker with your router. Once the setup is successful, you can give a dedicated name to your speaker.
For people who have more than one speakers, you can set them all up one after the other repeating this same process.
Final words
So, this is how to reset sonos speakers and set it up with your router. Make sure that you try rebooting once or twice to see if your problem is eliminated before taking the final measure of factory resetting your device.
(Visited 442 times, 1 visits today)