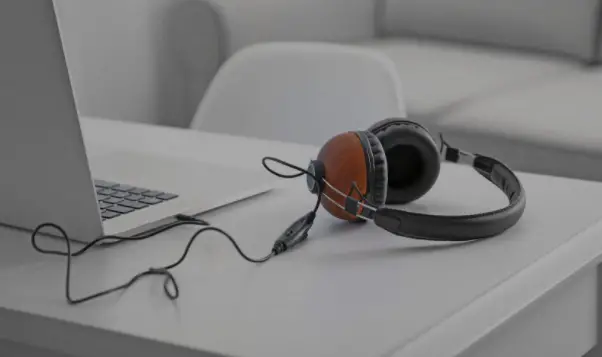 Is it possible to find the best headphones for under $20? Are they worth buying?
Tech Support 24/7
Ask a Tech Specialist Online
Connect with the Expert via email, text or phone. Include photos, documents, and more. Get step-by-step instructions from verified Tech Support Specialists.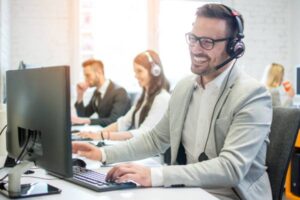 These are some common questions coming to your mind when you are on a budget. The answer to the first question is "yes." You will find many pairs of headphones under $20. However, the answer to the second question needs a bit of explanation.
Keep in mind that headphones under $20 do not have exceptional features except the price. However, it doesn't mean that they won't do the job. Many headphones under $20 offer excellent sound quality, superior build quality, and impressive comfort levels.
Some well-trusted brands produce quality audio-gadgets for their on-budget customers. This article entails seven best headphones under $20.
Tech Support 24/7
Ask a Tech Specialist Online
Connect with the Expert via email, text or phone. Include photos, documents, and more. Get step-by-step instructions from verified Tech Support Specialists.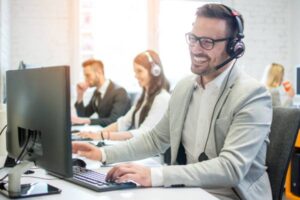 7 Best Headphones Under 20 Dollars
1. Koss UR20 Over-Ear Headphones
Rating: 4.3/5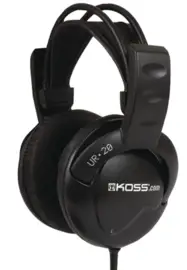 Koss UR20 are Over-ear, budget ear-phones featuring a wired design and slingshot headband. The headphones share many features with some expensive headphones models and have much better quality than their price suggests.
To begin with, these headphones have a bulky unfoldable design. The headbands are adjustable and fit on any head size. It features a slingshot design, and you can twist one ear cup for single-ear listening.
Koss UR20 features a Plastic construction that doesn't feel stable, while Ear Cups feature a PU construction. The headband comprises two thin metal wires covered with a rubber material. As a whole, it is not an overall sturdy construction but doesn't feel bad in hand.
The earcups padding and PU leather are unbreathable materials, making the headphone warm and uncomfortable for some users. Koss UR20 has a fantastic sound quality for their price tag. The most powerful weapon they have is their punchy and forward bass.
Moreover, having a frequency response between 18 Hz to 24000 Hz coupled with 16-ohm impedance, these headphones work great with almost all music genres.
However, a smaller inconsistency in bass delivery is noticed, especially in the treble range. Since these phones have no noise cancellation feature, you will see poor voice isolation, especially in the mid-range and bass.
[i2pc][i2pros] Long cable Comfortable ear padding The breathable, wired headband design Suitable for all music genres [/i2pros][i2cons] Poor build quality Poor isolation [/i2cons][/i2pc]
Since you are getting good sound quality over a range of music genres, there is no reason for not buying these headphones, especially when you are on a budget. Although there are some minor problems with the sound and build quality, you can still expect long-term performance from the cheap headphones by a well-trusted brand.
2. PeohZarr On-Ear Headphones
Rating: 4.5/5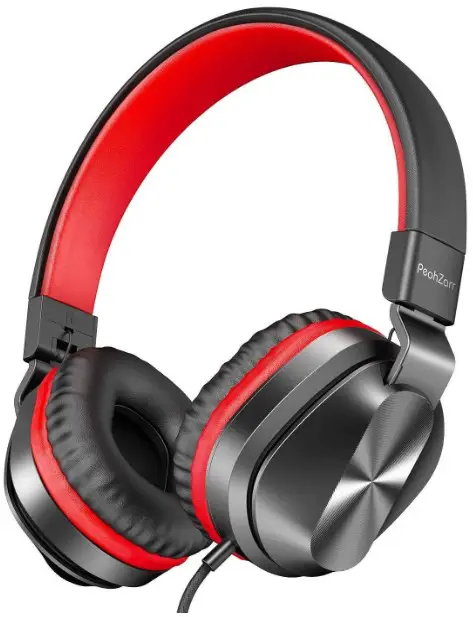 PeohZarr On-ear headphones are inexpensive headphones with a built-in microphone designed for maximum comfort and an unmatched listening experience. These headphones feature an on-ear breathable design with a flexible headband.
Moreover, ultra-soft ear cushions and padded headband are incredibly comfortable to wear and offer an exceptional listening experience over long-sessions. They have a relatively slim and lightweight profile than some big and bulky over-head earphones.
They feature a reliable plastic material, and a folding design, making them easy to carry around. Furthermore, they have an intangible, flat 1.5m nylon cable, perfect for daily use and outdoor commute.
The feature that helps them stand out as the best headphones under $20 is their unmatched sound quality. With an extensive frequency range and rich bass, they have crisp and clear mids, lows, and trebles. 40mm drivers coupled with compact earpads, deliver crystal clear sound, even at extreme volume levels.
Built-in microphones allow you to make hands-free calls, but you may find a little bit of distortion in sound as the headphones lack a noise cancellation feature.
[i2pc][i2pros] Lightweight but reliable construction Non-tangible wire Good audio-quality [/i2pros][i2cons] No wireless connectivity [/i2cons][/i2pc]
If you are looking for a cheap pair of headphones with phenomenal sound quality, PeohZarr headphones will do the job. Since they are a bit bulky and do not offer wireless connectivity, they are not ideal for workout and sports enthusiasts.
3. Panasonic Headphones – RP-HT161-K
Rating: 4.3/5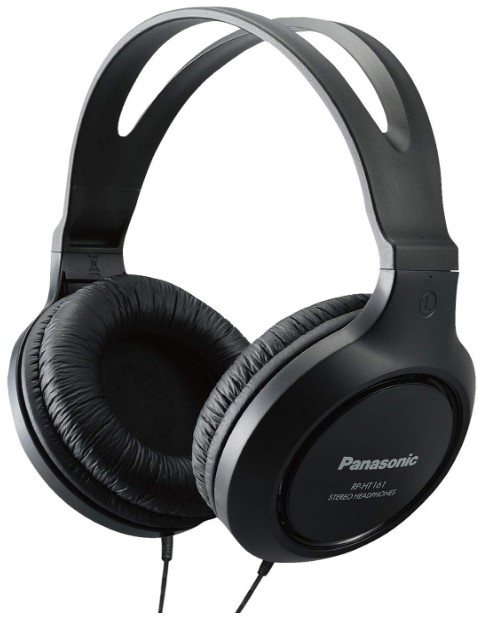 These Panasonic headphones are another excellent option for budget seekers. The headphones deliver a decent sound-quality, maximum comfort, and long-term performance at a low price.
This set of Panasonic headphones feature a corded design, having a 6.5-foot long cable. The headphones do not have durable construction, and a plastic body feels somewhat flimsy and easily breakable. At the same time, this plastic construction makes it extremely comfortable and lightweight.
Moreover, plush-foam padding around earcups provides superior sound isolation and prevents distractions for better sound quality. Thankfully, there is no compromise on sound quality like the build quality. Equipped with 30 mm drivers and extensive frequency range, the headphones deliver powerful bass.
In addition to rich bass response, you will feel distinctive vocals, mids, highs, and lows at all volume levels. This exceptional sound quality helps them stand out as the best headphones under $20.
Moreover, a 6.5 feet extra-long cord makes them flexible and easy-to-handle headphones for daily use. However, you can't think of taking these bulky corded headphones at outdoor adventure and workout spots. It can be used for gaming as well, but might not be that pleasant. You can check out the best gaming headsets under 30 dollars on our list.
[i2pc][i2pros] Comfortable design Excellent sound quality Extra-long cord [/i2pros][i2cons] Poor build quality [/i2cons][/i2pc]
Panasonic headphones offer long-term performance and overall decent sound quality at a very reasonable cost. These headphones are ideal for indoor use and deliver impressive sound quality for almost all music genres at all volume levels. Lastly, the brand has also produced some cool studio headphones too.
4. Otium Bluetooth Headphones
Rating: 4.3/5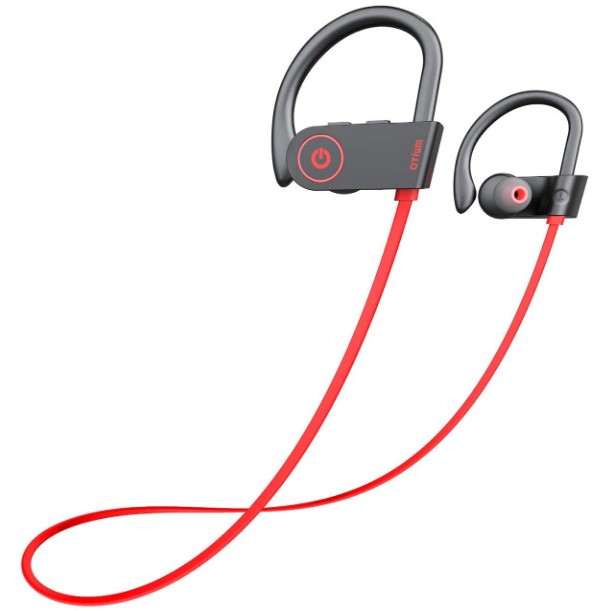 Unlike inexpensive, wired over-ear bulky headphones, Otium Bluetooth headphones will accompany you all around in the gym, in the park, while dancing, and even during every intense physical activity.
Otium Bluetooth earphones come in ear-in, ear-bud style. They fit the ear via a soft and flexible plastic hook, while both earbuds are connected through a straight cable.
Their lightweight and flexible size adjustments make them extremely comfortable to wear. You won't notice, having them in-ears, even when you are wearing them for longer hours.
Another standout feature of Otium earbuds is their IPX 7 rating, in addition to their handy and ear-friendly design. It means they are waterproof and can handle water, sweat, and any other kind of moisture. I think this feature makes them an ideal option for outdoor adventures and physical training.
Furthermore, Otium Bluetooth has overall excellent sound quality. Bass is okay but not up to the mark, which is fine for such a small piece of hardware. Moreover, mids and treble and vocals are clear even on the extreme volume levels.
These Bluetooth headphones come in an LED charging case. The LED displays how much power you are left with and if you need to charge the headphones or not. Another great feature of the handphones is touch-control, instead of hard-to-push side buttons.
You can adjust volume, accept a call, pause the music, and change the song by simply tapping on the side of ear-buds, which is very quick and convenient. The headphones feature a 4.1 Bluetooth connection, which is pretty reliable. Sometimes you may face a minor dysconnectivity issue from one earbud, but it happens very rarely. In the COVID times if you are looking for a cool headset for meetings then try out these headphones best for teachers.
With a single full charge, the battery lasts for more than eight hours, which is fantastic for such inexpensive headphones. Also, there is a charging light indicator on the right earbud and a charging bar that is displayed on your phone.
[i2pc][i2pros] Durable and lightweight Stable Bluetooth connection Ideal for commuting around LED charging case [/i2pros][i2cons] Lacks in bass [/i2cons][/i2pc]
Besides the minor flaws in bass and mid-range sound quality, Otium Bluetooth headphones offer excellent sound quality for a wide range of music genres. Since the headphones are durable, lightweight, and waterproof, they are ideal for outdoor adventures, gym, and commuting around the town.
5. LETSCOM Bluetooth Headphones
Rating: 4.4/5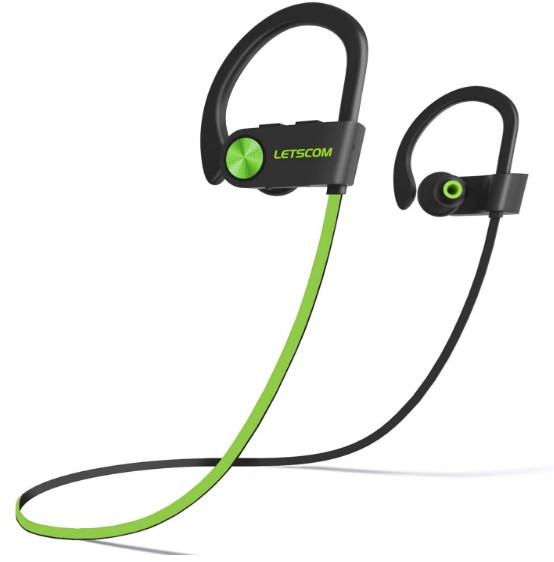 Letscom U81 Bluetooth headphones are another inexpensive pair of workout earphones, with stable Bluetooth connectivity, IPX7 waterproof rating, and 8-hours of playtime.
The first thing you should consider before buying workout earphones is their durability and design stability. Thankfully, these earphones aren't too bulky. Instead, they feature a standard sports earbud-style in which both earbuds are connected through a non-tangible wire.
They have an ear-in design and fit on the ear by a flexible plastic loop. There are four different sizes to choose from so that you get a perfect size. Moreover, these headphones have a surprisingly exceptional build quality.
They have an IPX7 waterproof rating, which means they are ideal for sweaty, intense workouts or commuting around in the rain. Other hardware features like mic, control buttons, and casing, everything is reliable and of high quality, which is a real treat for such an inexpensive pair of earphones. If you want more earbuds like these then check out or $30 earbuds guide.
The feature that helps them stand out as the best headphones under $20 is their distinctive and unique sound signature. With a HiFi bass stereo, these headphones are perfect for loud and high-energy listeners. On top of that, a noise cancellation feature adds more power to the sound quality making it ideal for calls and listening to music in crowded and noisy places.
Earphones support a 5.0 Bluetooth connection, which is pretty stable over a range of 500m. You can charge the earbuds via USB cable. The headphones battery lasts for around eight hours, providing an impressive playtime for such inexpensive sports earphones.
[i2pc][i2pros] Durable and lightweight 5.0 Bluetooth stable connection HiFi bass stereo 8 hours playtime [/i2pros][i2cons] Small control buttons [/i2cons][/i2pc]
Letscom Bluetooth headphones are one of the best workout ear-phone sets, with exceptional sound quality and stable Bluetooth connectivity. Moreover, an IPX7 waterproof rating makes them more eligible for intensive workout and outdoor activities.
6. iJoy Matte Finish Premium Rechargeable Wireless
Rating: 4.4/5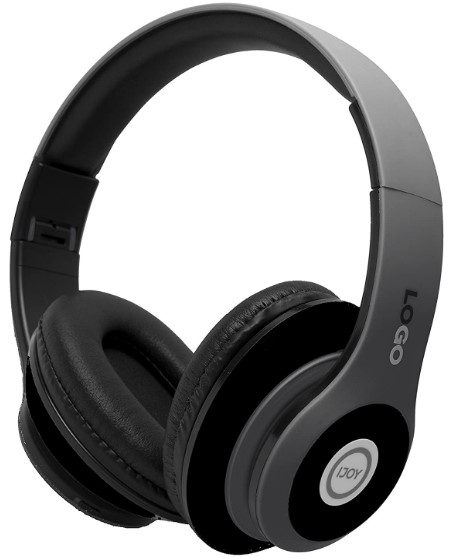 iJoy Matte are excellent Bluetooth overhead headphones that are low in price but rich in features. These headphones come in a foldable design and excellent Matte finish, making them ideal for outdoor use and carrying around everywhere.
These head-phones use heavy-duty material, making them durable enough for careless daily use. Ear-cups fit easily on the ears, helping in excellent sound isolation and headphone stability. The headband has an adjustable design and easy-to-fit padding, making them perfect for different head sizes.
A disadvantage of these headphones is their bulky size and weight. They may slip over the head and fall during unusual movements in the gym or during intense workout activities.
With an extended frequency range, these headphones promise a top-notch sound quality. Moreover, extended frequency range coupled with deep bass response produces quality sound, making the headphone ideal for almost all music genres.
However, you may find minor issues in bass response on high volumes, which is acceptable for this price. The best part of the headphones is their noise cancellation feature. Premium quality mic makes the hands free calls possible even at the noisy and rushy spots.
Control panel consists of easily accessible control buttons, including pause, play, hang up, volume control, etc. They also support SD card plug-in and have a built-in radio receiver for extra fun. The battery has a playtime of around five hours, which is not bad at all.
[i2pc][i2pros] Durable construction Foldable design SD card support Good sound quality [/i2pros][i2cons] Not waterproof Un-breathable padding inside [/i2cons][/i2pc]
With an extended frequency range and deep bass response, this pair of headphones delivers unique and exceptional audio quality. Moreover, a foldable design, durable construction, and firm control panel make them one of the best headphones under $20.
7. Mpow Flame Bluetooth Headphones
Rating: 4.4/5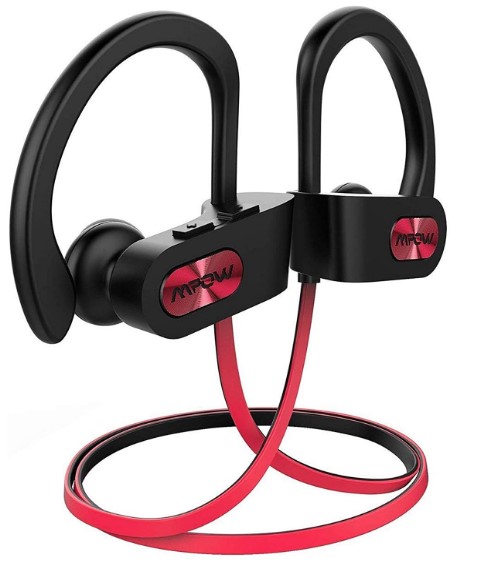 Mpow Flame Bluetooth Headphones is a pair of top-quality work-out friendly headphones, packed with a bundle of amazing features, making them one of the best headphones under $20.
Headphones feature a standard sports earbud style. Earbuds fit into the ear by a flexible plastic hook, and both earbuds are connected through an intangible flat plastic cable.
The headphones feature an IPX7 waterproof rating, with nano-coating technology. This coating protects the headphones from sweat during workouts and heavy rainwater during outdoor activities.
As far as the sound quality is concerned, these headphones are real deal-breakers. According to some customer's reviews, these headphones sound great. Technically speaking, these headphones have a strong boomy bass. Mids, highs, and vocals are clear at almost all volume levels.
The minor issues with sound quality appear as you raise the volume above 80%, which is quite acceptable for such an inexpensive audio device. Moreover, they offer proper vocal and instrumental isolations and deliver crystal clear sound provided that you choose the right size of ear tips(XS/S/M/L).
Equipped with 5.0 Bluetooth, they offer a stable connection over a range of 500 meters. Moreover, a built-in mic with a noise cancellation feature allows you to make hands-free calls.
[i2pc][i2pros] Ergonomic design and durable construction Fantastic audio quality IPX7 waterproof rating Stable Bluetooth [/i2pros][i2cons] Only 6-hours playtime [/i2cons][/i2pc]
If you are searching for budget workout headphones with acceptable but not exceptional sound quality, this pair of Mpow Flame headphones is a fine option. These rechargeables, lightweight wireless headphones are something that will accompany you during the vigorous workouts.
Buying Guide
Before making a budget purchase, you need to be more investigative as cheap products often compromise quality. If you want to add a useful pair of headphones to your audio-gear, go through this buying guide before the market.
Overhead or Ear-in Style
These are the two standard styles in which you will find the pair of headphones. Both designs have their pros and cons making them ideal for varying situations and user's needs.
Overhead headphones are big and bulky in size, usually featuring wired connectivity. These headphones are more suitable for indoor usage as they feature a limited range of wired connectivity.
However, you may also find some slim-profile and lightweight overhead headphones with wireless connectivity under $20, but it will be a rare find for sure. There are more chances that overhead headphones easily slip and fall from your head as you move because of their heavyweight and bulky hardware.
In terms of sound-quality, overhead earphones are far better than ear-in headphones. They have more powerful bass, deep bass response, impressive isolation, and outstanding loudness levels. So, if you are an energetic listener, there is nothing better than getting bulky overhead earphones.
On the other hand, Ear-in headphones take advantage of their low weight and slim-profile. These headphones are small and lightweight, have Bluetooth connectivity, making them ideal for outdoor and sporting activities.
They're more stable and comfortable to wear while gymming, running, and commuting around. Moreover, they are easy to carry around while traveling, and add less load to the gear, making your life easier.
However, you can't expect exceptional sound quality from these ear-in headphones because of the low profiles. The feature they lack, in particular, is a powerful bass.
Size and Flexibility
It is another crucial feature to look for in a headphone set. The size of the headband, earcup, and earbuds should go with your head and ear size. You can't expect a quality sound isolation until the ear-cup or earbud perfectly fits on your ear.
Headphones are available in variable sizes, and their headbands offer size adjustments. In short, you will get better sound isolation, stability, and comfort, only when you find the perfect size of headphones.
Build Quality and Durability
Since we are concerned with headphones under $20, build-quality is the most crucial feature to consider. We have often seen inexpensive products having poor build quality.
If you are a gym rat or workout lover, you need to buy a sturdy set of headphones that can withstand the rigorous workouts and outdoor conditions. It is recommended to get waterproof headphones for exercises or sports activities.
Waterproof headphones have an IPX7 rating for water-resistance. IPX 7 ratings suggest that headphones will work fine even if they are submerged in one-meter deep water for thirty minutes. These headphones can withstand wear workouts, rainwater, and accidental water encounters.
Moreover, intangible wire material also makes it easy to handle and extends their life span. Furthermore, the material of the headband, casing, and ear-cups also makes a lot of difference.
Sound Quality
Sound quality is, of course, your primary concern when you are buying an audio gadget. To be honest, you can't expect exceptional or extra-ordinary sound quality from headphones under $20.
However, if you are more concerned with sound quality, consider buying big bulky over-ear or on-ear headphones. These headphones have powerful bass, rich bass response, and an extended frequency range for clarity of treble, mids, and highs.
On the other hand, in-ear head-phones usually do not have a rich bass and extensive frequency range; still, some in-ear headphones have powerful drivers and deliver decent sound quality.
Another factor that affects the overall sound quality is the active noise cancellation feature. Active noise cancellation technology allows you to use headphones to listen to music and make calls at noisy spots.
The noise isolation feature also adds more to sound quality. Noise isolation feature is achieved by a physical barrier preventing the external sounds from entering the space between your ear and headphones.
Bluetooth Connectivity
If you are looking for a wireless set of headphones, you will get Bluetooth connectivity. Bluetooth connectivity makes the headphones ideal for outdoor adventures and workouts.
You are lucky enough if you find a 5.0 Bluetooth connection in headphones under $20. 5.0 Bluetooth shows minimal distractions and has a stable connection over a range of 500m.
Battery Life
This feature comes into play when you go for wireless headphones. Bluetooth connection and continuous music playing are battery-intensive operations.
Many wireless headphones on our list of "seven best headphones under $20" have a playtime of around eight hours, which is an exceptional figure. Keep in mind that if you are buying a wireless pair of headphones for outdoor use, it should have playtime for five hours at least.
Wrapping Up
All the aforementioned headphone models deliver decent sound-quality and feature durable hardware. We have tried hard to bring forward the best headphones under $20, but you may have to compromise on some features as $20 is quite a low price.
Our top-three picks from the list are
Koss UR20 Over-Ear Headphones for comfortable over-ear design, powerful bass, and extensive range of frequency response
LETSCOM Bluetooth Headphones for their lightweight, HiFi bass stereo, 5,0 Bluetooth connectivity, and workout-friendly design
Otium Bluetooth Headphones for there sports-design, IPX7 rating, and LED charging case
If you are an outdoor-enthusiasts or fitness-lover, ear-in Bluetooth headphones on the list are a real treat for you. They are inexpensive, lightweight, and deliver a decent sound quality. Although plenty of headphone sets are available under $20, you can get a better sound and hardware quality by spending a few extra bucks.
(Visited 233 times, 1 visits today)
Max Anthony
Mainly Max Anthony is an athletics tutor & lives in Texas but that's not it. He's is also a music producer, content creator, record producer, writer, and session musician. He has been producing music and engineering at a lower level for over 5 years. His passions include quality music gear and that's what he loves to write about on HifiBeast. (
Shoot him an email now
 )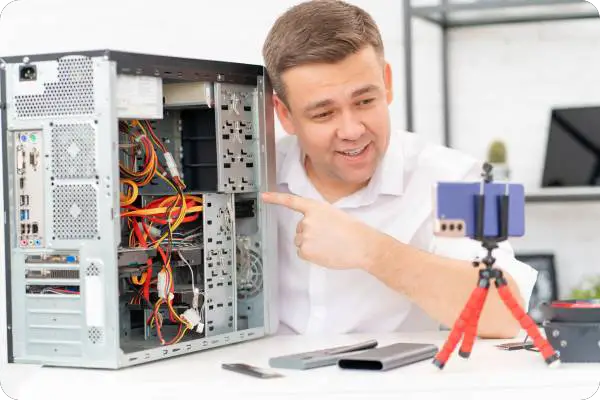 Chat With A Technician For Personalized Help
Help with setup and starting issues, blinking error lights & all your repair needs in just minutes
Ask a Repairman Live Now