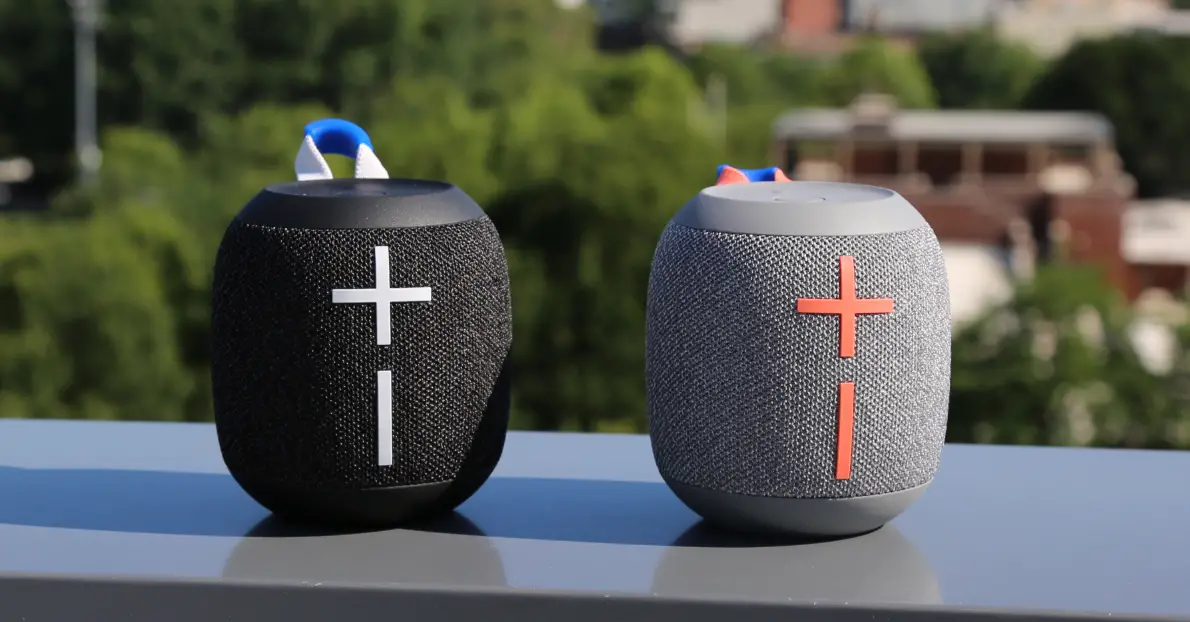 Definitely one of the bests in the market, UE Wonderboom is something you won't regret buying. For starters, it is entirely waterproof. Unlike other speakers, it offers A-Z water protection. Apart from that, it offers 360-degree sound. This feature helps it get the better of other alike speakers. For people who like to pair multiple devices with a speaker, this is an ideal choice. It saves up to eight devices in memory and can connect with two of them simultaneously. This small little box does wonders as it offers a startling range of 100 feet. What else would you want in an ideal speaker?
Wonderboom is a win-win
It has so many virtues that its flaws are unaccounted for. Wonderboom is not only waterproof, offers two connections at a time, it also provides high-quality sound. Apparently, it is a small item but the sound levels are exhilarating. And the best part is that even from 100 feet you can hear everything as if you are sitting right next to the speaker. Many of its opponents put forward its costs but its users know that its price is worth its features.
Some minor drawbacks
Transparency is the one thing no one compromises on. It is, hence, our duty and your right to be educated about everything. Wonderboom speakers offer ultimate thrill and enjoyment but it, like everything else, has its limitations. Keeping in view the structure, Wonderboom is extremely small that doesn't really add to its appeal. Also, it comes with an elastic hoop. This hoop has no function and is completely useless that makes it an irritating addition. One thing that lags in this speaker is the speakerphone. In today's world, where feature pyramiding is the top-most priority, Wonderboom lacks this basic attribute. Lastly, some frequent listeners have noticed that it has a confined sound. This, however, is liked by many other users.
The speaker is waterproof
Many experiments have led us to the result that the Wonderboom speakers can bare 1 meter of submersion for half an hour. That means, it is safe near to or in water. The only thing to consider here is that the auxiliary port supported by the speaker and the micro-USB port is not waterproof. So before you decide to place it near a water body make sure that these two things are well protected. Furthermore, if you have wetted the port accidentally, don't charge the speaker unless it's completely dry.
Can I reset my Wonderboom?
Users often want to know how to reset Wonderboom speakers. Well, it is a child's play and can be done in a few steps. But why do you even want a reset? A factory reset deletes all of the speaker settings and your speaker is as new from the inside as a newly-bought system. Upon a reset, the following settings are removed:
The Bluetooth name for your speaker; you will have to give it a new name
It's memory; any and all paired devices are deleted from the speaker's memory and you will have to repair individually with the required devices
WiFi settings; if your WiFi is password-protected and you have forgotten the key, don't reset the speaker. It won't connect to WiFi without the key
All Artificial intelligence credentials
The setup memory; once a factory reset is performed, you will need to go through the speaker set-up process again on each device.
How to Reset Wonderboom?
Following steps help you reset your speaker:
Turn the speaker on
Disconnect with any connected device
Press the power and volume buttons simultaneously for a minimum of six and a maximum of 15 minutes.
You will hear a sound, beep, or tone. This is the direct and only indication that your speaker has been reset.
After this, the Wonderboom automatically turns off. If this does not happen and you don't hear the tone, go through the 1st three steps again
Turn it on to complete the set-up and pair newly with an available device
Cleaning the speaker
Cleaning an electrical appliance is a hard task as you need to be careful with water and the system's conductivity. UE speaker needs cleaning in two different ways:
CLEANING THE FABRIC: You'll need a water wand or a shower bottle, dish cleanser, and delicate fiber brush. Ensure your Ultimate Ears Speaker is switched off. Carefully wet the texture on your speaker with water utilizing a water wand or shower bottle. Moisten a delicate fiber brush with lathery water and softly clean the skin of your Ultimate Ears Speaker. Rapidly wash the cleanser off or wipe with a soggy fabric. When clean, permit the speaker to air dry totally before charging it.
CLEANING THE RUBBER: You'll require a cotton or microfiber material and a typical household cleaner, as isopropyl liquor or common window cleaners. If you don't want to take a risk you can utilize disinfectant wipes. If you want to go with the former solution, apply the cleaner on the fabric. Wipe the elastic tie top to bottom. For the final cleaning, take a dry fabric. Lastly, make sure that your Wonderboom is completely dry before you turn it on or charge it.
Battery levels of the speaker
Your speaker lets you know how much battery is remaining in it so you can charge it before it turns off. All you have to do is press the volume buttons (both plus and minus) simultaneously. The speaker tells you the battery in three levels; high, low, and medium. You won't know the exact percentage but the levels can be enough to get an idea of how much time is left before you need to charge it again.
Doubling up the speakers
You can combine the power of two Wonderboom speakers easily. Just be sure that one speaker is paired and connected with your source device. Press the logo button on both the speakers together and hold for 3-5 seconds, specifically until you hear the tone that indicates successful pairing. Now you can hear the sound from the speakers operated from the same source.
(Visited 1,628 times, 1 visits today)