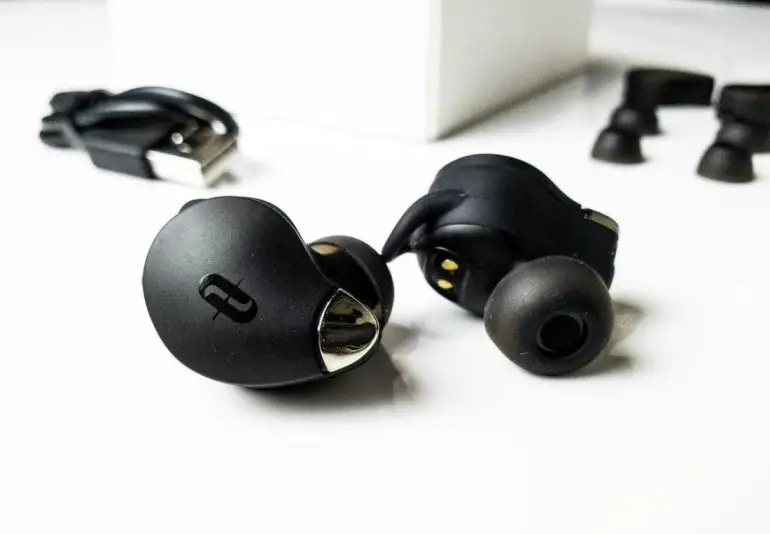 TaoTronics has presented wireless audio lovers with another brilliant pair of wireless earbuds to their collection. TaoTronics is a TWS (true wireless earbuds) made with a single dynamic driver at brilliant value for money.
There are many brilliant features to love here which as the smart AI noise cancellation, excellent microphone and long battery life. Added to this, they are fully waterproof and can be used in all conditions.
In this review we'll look a little deeper into these features while also discussing any negatives it has. By the end, you should have a clear idea of whether or not these are the right wireless headphones for you. Let's get started and find out!
Style
The SoundLiberty 79 has a standard all-black wireless earbud design. It has a touch-sensitive surface available in a matte black finish or you can buy it in a silver/black design. Where the in-ear headphones stand out is comfort.
The weight is just 0.02lbs and the earbuds are small enough to reduce pressure inside the ear. Neither do they enter your ear canal deep compared to other earbuds. You receive earphones with different ear tips for a snug fit. You also receive a removable rubber fin.
You get the earbuds, charging case, six ear tips, four ear hooks, and the USB-C charging cable in the box on arrival. It looks great and you'll be excited when you receive them.
Build quality
You will find the build quality is good as both the earbuds and case comprise of quality plastic and are rated IPX8 for water, sweat and rain. With the earbuds inside the case, it is lightweight and portable to take anywhere.
The battery on the earbuds provides up to eight hours of runtime and has touch control with mono use for both sides. However, you cannot switch the earbuds on/off. Neither is there touch feedback to reach a maximum or minimum volume.
Users found the usability needs improvement as the hit rate is low and you constantly need to redo your actions before it registers. It's also worth noting that TaoTronics uses a play/pause action that is a two-tap use. Also, these earbuds only have sound feedback when reaching the max or min volume.
You cannot switch the earbuds off without inserting them in the case. While you may not like some of those features, we found the overall build quality to be very good. These earbuds should be able to last for a long time in a variety of different conditions.
Sound quality
The sound quality is slightly v-shaped with more emphasized bass than treble. The mids are decent but can perform inconsistently in the upper-midrange and can sounds a bit recessed. The soundstage is on the narrow side, but the sound separation in complex songs is first-class for a single dynamic driver.
When thinking about the sound quality, you also have to consider the size of the device and the cost. When you take these into account, you get impressive results which you're sure to be happy with. Overall it presents you with an excellent dynamic sound for fast-paced songs.
Microphone
The earbuds have an integrated microphone inside, and you get a decent soundtrack quality and functions way better than other Bluetooth microphones. The Smart AI Reduction Technology seems to pick up and augment your voice from the background noise.
However, it also picks up the background noise significantly. The microphone is good for taking calls on the go but you'll probably want something different for gaming. If a brilliant microphone is a vital feature then you may need to look elsewhere.
Battery
The battery has a 32-hour playback time with a USB-C connector without wireless charging. The case comes with one USB connector found at the back for charging. You can open the charging case quickly, and even when shaking the case, the earbuds do not budge.
There are four indicator lights on the front representing the battery life and activates when opening the case or plugging in the charging cable. Another exciting thing not seen with other TWS earphones is when you close the cover, the light shows you what side the earbuds are in the case, and if both are inside the case, it lights up left and right.
The battery life is very good and you'll find yourself going days without needing them to be charged. The charging case, however, allows you to keep on top of your charging so you never have to worry about being without your audio.
Connectivity
The Bluetooth connectivity is impressive with the BES2300H, and pairing it with your device is a breeze. You can quickly set from mono to regular use fast. The Bluetooth connection is stable with brief dropouts. You'll be able to listen to whatever you want smoothly and without any annoyances.
Features of the SoundLiberty 79
Audio Codec: AAC and SBC
Noise reduction up to 40dB
Provides playtime up to 30-hours
Open the lid of the case to pair instantly with a device
Type-C charging port
Built-in mic with noise-canceling for hands-free use
Intelligent touch control on the earbuds
IPX8 rated
The Pros and Cons of the SoundLiberty 79
Pros:
Portable case with 40-hour playback time
Comfortable and good fit
Stable Bluetooth connection
Decent voice pickup
Excellent bass
IPX 8 rated
Cons:
Not the best quality mic
Cannot switch the earbuds off
Has no touch feedback
Final thoughts
The TaoTronics SoundLiberty 79 has a well-balanced sound with an added punch and thump without it being overpowering. The battery life is decent, and if you are looking for earphones to use at the gym, these come highly recommended with the IPX8 rating.
The mic has decent voice pickup but does pick up a lot of back ground noise. Also, when it comes to using the earbuds controls, they are not the best to use as it has no tactile feedback.
Aside from some minor issues, we were very impressed with these earbuds. They are comfortable and you can use them for a long time between charges. The overall quality is excellent and they represent excellent value for money.
(Visited 169 times, 1 visits today)