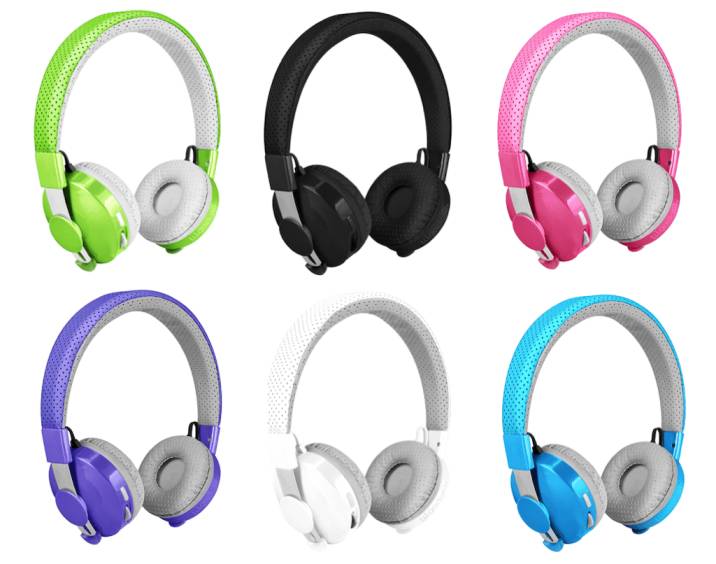 With so much reliance on technology, the best thing a parent can do is consider getting headphones that are best suited for their children. They are still at an age where they are just beginning to develop physically rapidly and you don't want them to have any hearing issue.
The ear canal of a child is much narrower than that of an adult and this means that exposure to loud sounds can be more harmful. That's why it's important to choose the right type of headphones which are not only comfortable but also high-quality.
To free you from such worries, we have selected the best volume-controlled headphones for your child based on in depth analysis and opinions from audio tech experts.
Ten Best Noise-Canceling Headphones for Kids — Reviews
1. LilGadgets Untangled PRO Headphones
LilGadgets Untangled PRO headphones were made and designed specifically for children and come with premium quality attachments. This includes fun features like port sharing with the unique ability to provide 13dB passive noise cancellation.
To ensure maximum hearing protection, it's equipped with an audio output limiter than can limit up to 93dB while most headphones does not limit beyond 85dB. With passive noise reduction technology that reduces the noise from the outside, kids won't need to max out the volume on the headphones anymore.
Key Features:
12 hours of battery life and 180-hour standby
The volume level is confined to a maximum of 93db
Frequency range: 20Hz – 20kHz
LilGadgets Premium Nylon USB Cable
Receiver Range: approximately 30ft
Supports Bluetooth 4.0
Available in 10 unique colors
2. JLab Audio JBuddies Over-Ear Headphones
These awesome JLab branded Audio JBuddies headphones are a practical and user-friendly gadget for your kids. Equipped with an inexpensive sound limiting capability, the JBuddies have an easy to use control that can properly and securely control volume output to only 85dB.
This can help ensure that your kids don't exceed the dangerous 90 dB sound limits if they want to rock. This device will fit kids aged two and older children without any problems. It also comes with Eco Leather Cushions plus a padded headband for a cozier feel and an ideal travel bag.
Key Features:
Lifetime warranty with 30 Day money return Guarantee
Available in three decent colors
Included braided-nylon cord and an in-line mic
It's perfectly fit on kids' ears
Smartly beautiful design
3. Gorsun Bluetooth Kids Headphones
This lovely noise eliminating Bluetooth 5.0 headphones from the Gorsun is a great listening device for kids. It is equipped with an adjustable headband that allows it to be used by kids of many ages.
You can also easily choose from five very different color options. These headphones incorporate a very modern feature which is a volume-limiting circuitry, to protect your child from hearing damage.
Key Features:
Headphones with HD microphone system
Wireless and wired capability
Maximum 85dB Volume Limit for hearing protection
Foldable design and adjustable headband
Adjustable and detachable kitty ear kit
12 Hours playtime and volume controller
4. Puro Sound Labs Noise Cancelling Bluetooth Headphones
One of the most outstanding features of the Puro Sound Labs brand's remarkable On-Ear Active Noise Erasing headphones is its highly efficient volume limiter that can be controlled by the user. Another unique feature is that it also includes an active noise cancellation technology.
While your child grows and learns something new when they listen to something, you can rest assure that these headphones will ensure your child's hearing will stay protected.
Key Features:
Bluetooth 5.0 wireless system
Has six eye-catching different color to pick
Warranty included with 30 days money back protection
Remarkably long duration battery capacity
Built from aluminum and cushioned headband
5. ONANOFF BuddyPhones Explore Foldable Kids Headphones
ONANOFF is a well-known manufacturer that produces award-winning audio devices, which are also safe for children. One of their products is the BuddyPhones headphones which is renowned for its exceptional audio capabilities and superb design. These powerful headphone has a built-in volume-limiting circuit that can provide adequate performance and security to children.
The headphones are also super durable since its made from calibrated polypopylene, and fitted with anti-allergic synthetic leather that not only comfortable but is also certified as safe for children's use.
Key Features:
Headphones are foldable and travel bag is included
Comes with Audio Sharing Cable with mic system
Choice of seven different colors
Made from high quality and safe material
Includes a Gold Plated 3.5mm audio plug
6. Heartek Noise Cancelling Headphones
If you're just looking for noise cancellation and a product to protect your child's hearing then you can get these awesome usable noise canceling earmuffs for kids by Hearted.
You have multiple color options that your child can choose form. They can be used in a wide range of settings and are extremely durable. They also have a light level of usability and you can take them with you wherever you go.
Key Features:
Includes self-adjustable headband and soft vinyl ear pads
It is easily extendable when you need
Foldable for easy store
It's eliminates audio distractions that a child might experience
Has 5-year warranty and satisfaction Guarantee
7. FridayBaby Baby Headphones
With these highly functional FridayBaby headphones, you can let your little baby enjoy the right time to sleep whenever and wherever without any problem. You'll suddenly feel like your baby can sleep just about anywhere.
All it takes is just to place the FridayBaby headphones on your baby's ear, and your little sweetheart will fall into a deep sleep in no time. It's the perfect ear protection that you can use in many different situations.
Key Features:
Incredible cushioned and comfortable for baby
Has an adjustable headband
Four different color options
Comes with a satisfaction guarantee and replacement policy
8. Mpow CH1 Kids Headphones
This Mpow CH1 kids' headphone is attractively designed for any child aged three or older. One of the essential features of these fantastic headphones is an 85-dB volume-limited hearing protection.
The headphones include a 3.5mm audio jack that makes it fully compatible with a wide variety of devices. They are also available in a selection of different colors.
Key Features:
Made from endurable materials (food-grade, twistable and bendable)
Comfortable and soft earmuffs
Choose from three different colors
Equipped with an 85db volume limiter
9. Kidz Gear Wired Headphones for Kids
These extremely strong and durable Kidz Gear headphones are another popular option for kids. These headphones are made to be lightweight, comfortable, stylish, and with the ability to transmit highly excellent sound even when it's fitted with a KidzControl 80 dB volume limit technology.
Both children and adults can use these headphones since its performance in terms of audio delivery can be enjoyed by everyone.
Key Features:
Includes a 'Lifetime Limited Warranty with 100% Satisfaction Guaranteed'
Comes with a volume-limiting adapter
Custom-designed for children age 2 and above.
Available in a charming set of five different colors choices
10. Sony MDRZX110NC Noise Cancelling Headphones
The MDRZX110NC an excellently designed and well-crafted headphone that comes in a perfectly standard black color. These Sony brand Noise Canceling Headphones are budget-friendly listening devices and is battery powered.
Its noise cancellation capability can reduce the active ambient noise in your surroundings by up to 12dB. This puts the audio level from the headphones to a safe listening level for your kids.
Key Features:
80 Hours of Battery Life
Includes an active noise cancellation feature
Only comes in a gorgeous black color
Wide frequency response
(Visited 178 times, 1 visits today)