The Samsung SSDs are portable, slim to touch and fit perfectly in the palm of your hands. The SSD T5 was released in 2017 whilst the T7 and T7 touch were released in 2020. All of them are great models to have. However, which one is the better one to buy? Here we will help you decide which one to spend your money on.
Tech Support 24/7
Ask a Tech Specialist Online
Connect with the Expert via email, text or phone. Include photos, documents, and more. Get step-by-step instructions from verified Tech Support Specialists.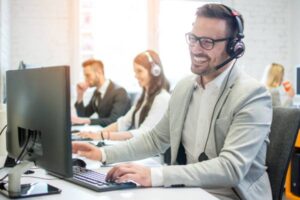 Colors and Storage Size
The T5 comes in four different colors which are blue, black, gold and red. The T7 comes in three colors which are gray, blue and red. The T7 Touch, however, comes in only two colors of black and silver. Each color of he Samsung SSDs comes in a variety of different sizes.
Color
Storage Size
T5
Blue

Black

Tech Support 24/7

Ask a Tech Specialist Online

Connect with the Expert via email, text or phone. Include photos, documents, and more. Get step-by-step instructions from verified Tech Support Specialists.

Rose Gold

Red

250 and 500Gb

1 and 2TB

500GB and 1TB

500GB and 1TB

T7
Gray

Blue

Red

500GB

1TB

2TB

T7 Touch
Black

 

 

Silver

500GB

1TB

2TB

500GB

1TB

2TB
Pricing
Obviously, the higher the storage space, the higher the price is going to be unless we are comparing the prices of the different models' storage devices. Apart from that, the colors may have different prices even though they have the same storage size.
The prices may also vary at different online stores. The best place to buy apart from the website is Amazon which has relatively lower prices compared to others. They all have a similar price point but there are some variances.
With the T5 being a slightly earlier model, you can expect that to be the cheapest and you can save a little bit of money if you're on a budget. That being said, there is often a premium to pay for the more vibrant colors of rose gold and red.
The T7 wits in the middle of the price range with a good selection of colors and sizes. If you only wanted a 500GB SSD then you're probably best going with the T7. The T7 touch is the most expensive of the three with it being the newest and having the widest range of features.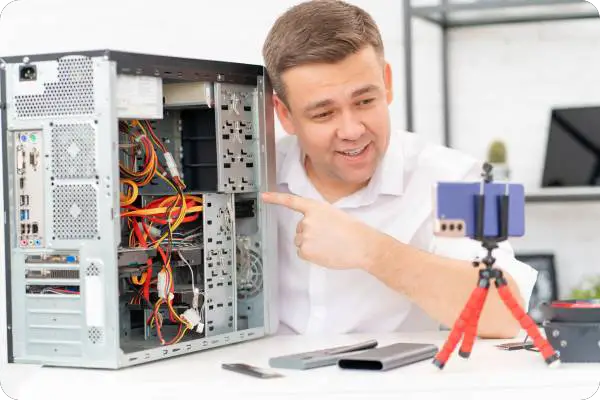 Chat With A Technician For Personalized Help
Help with setup and starting issues, blinking error lights & all your repair needs in just minutes
Ask a Repairman Live Now
Key Features
Read and Write Speed
The Samsung SSD T7 and T7 touch are two times faster than the T5. The T5 has a read speed of about 540MB/s and a write speed of about 530MB/s. The new models, however, read/write at 1050/1000 MB/s respectively due to an embedded PCle NVMe.
Weight
While the T5 weighs 51 grams, the other two models weigh 58g each. All the SSDs can handle drops of up to 2 meters.
Dimensions
Both the T7 and the T7 touch are similar in dimensions. They are also wider than the T5. Meanwhile, the T5 is a little longer and deeper than the two models. Here are their specific dimensions as found on the Samsung website. The T5 has a width of 74mm, a height of 57.3mm and a depth of 10.5mm. The T7 and T7 Touch have widths of 87mm, heights of 57.0g and depth of 8mm.
Security
All the software is secured with an AES 256 bit encryption in a sturdy metal body that keeps all the data intact even from falls. They are also backed by a 3-year warranty, which is impressively long. They also have a software that can be upgraded from time to time to protect the hardware from virus and other attacks. The T7 has an added security feature, fingerprint protection. With this, you can add up to four fingerprints.
USB Interface
Samsung SSD T5 has USB 3.1 Gen 2 and the T7 and T7 Touch have USB 3.2 Gen 2. However. They both perform at 10gbps. They have a feature of backward compatibility. This means that they can support older USB. Obviously, the read and write ability of the SSDs will be limited.
Thermal Solution
When it comes to thermal solution, the T7 and T7 Touch are the better choices. It features an advanced thermal solution which uses ePMC technology and the Dynamic Thermal Guard to control heat. This means that you can transfer your files, movies and there at fast speeds without worrying about your SSD heating up. Unfortunately, the T7 does not possess this advanced feature but can equally control its temperature during transfers, albeit slowly.
Style
The Samsung SSS's T5, T7 and T7 Touch also have some similarities. With their appearance, they are a bit shiny. They are sleek and slim when touched and possess the aluminum feel. They are after all made of solid aluminum which makes them shock resistant. Their dimensions literally make them the size of a credit card and can easily fit into a wallet or a purse. These are the very obvious similarities when the hardware are stacked against each other.
Multiple Devices Compatibility
All the SSDs have this feature. They are compatible with PCs, Laptops, Mac, Android devices, gaming consoles, tablets and even some TVs. The box comes with two USB cables: a type-C to C and a type-C to A. The latter paved ways for connection to older USB devices.
Certification
They all support: BSMI, CB, CE, C-tick, FCC, IC, KC, TUV, UL, and VCCI. They also all support the Rohs 2 compliance.
Final thoughts
All three of these SSD's are brilliant and they essentially perform the same function. That is to transfer files, whether huge or small. The significant differences can be found in their maximum sequential read and write, prices and colors. If you're on a budget then you can purchase a lower capacity T5 or T7. If you want the T7 Touch at the highest storage size, then you'll need to pay a premium price for that.
The issue with the latest models is that it is difficult to find computers that can match their power. While they are very fast, some computers and devices lag behind. This means that you cannot use the hardware to its full capabilities. So it's good to check your specifications.
Hopefully now you have a clear picture of the difference between these two models. All three have their advantages so it's simply about choosing the right one for you.
(Visited 155 times, 1 visits today)
Max Anthony
Mainly Max Anthony is an athletics tutor & lives in Texas but that's not it. He's is also a music producer, content creator, record producer, writer, and session musician. He has been producing music and engineering at a lower level for over 5 years. His passions include quality music gear and that's what he loves to write about on HifiBeast. (
Shoot him an email now
 )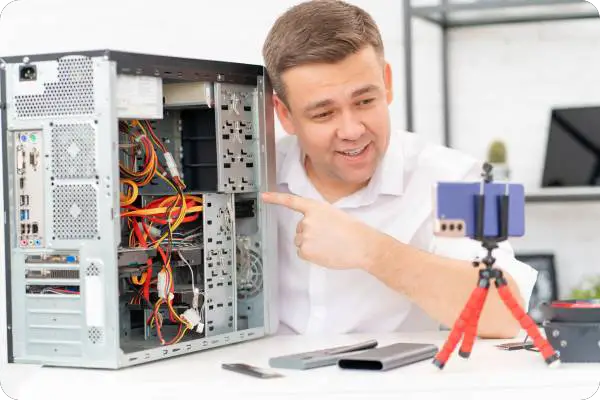 Chat With A Technician For Personalized Help
Help with setup and starting issues, blinking error lights & all your repair needs in just minutes
Ask a Repairman Live Now