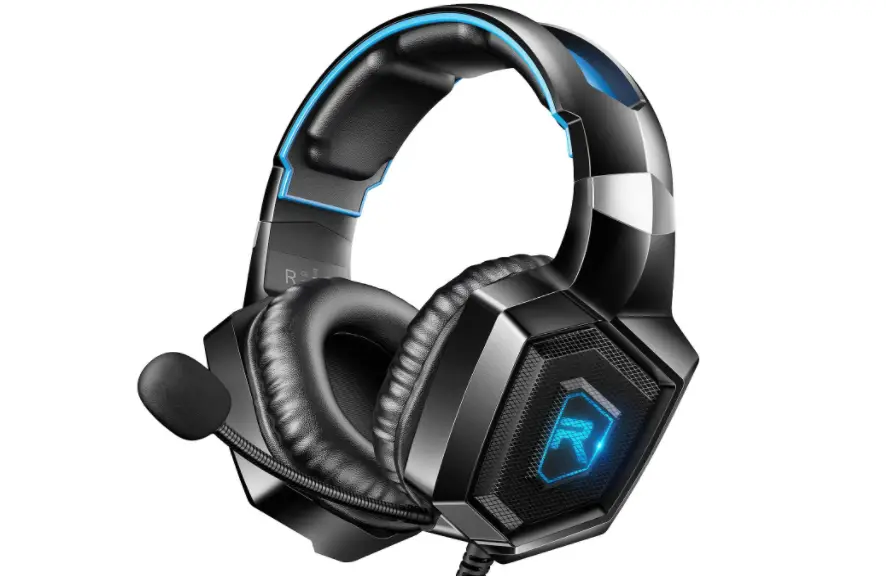 Tech Support 24/7
Ask a Gaming Expert Online
Connect with the Expert via email, text or phone. Include photos, documents, and more. Get step-by-step instructions from verified Tech Support Specialists.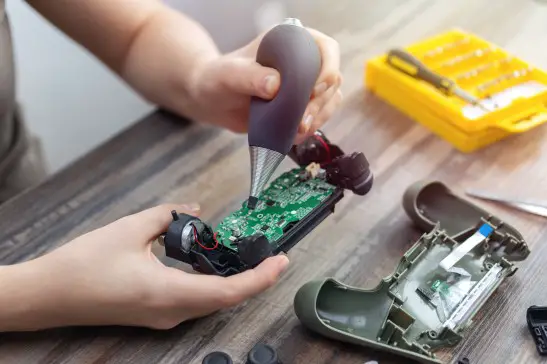 Are you looking for a budget-friendly professional headset for gaming? We are presenting you with a Runmus K8 headset with multiple features. It is a product of Runmus, which is a company of headsets. The profession of gaming is a newly emerging field when it comes to the virtual industry. For gaming, a headset is a very crucial device.
For the past few years, there are a lot of companies making headsets. However, using a regular headset does not give you a unique experience of gaming. To enhance your gaming skills and an optimal gaming environment, you need to use specific gaming headsets.
Runmus K8 headset allows you to have to experience surround sounds. It improves your gaming reflexes. It also offers clear communication while pairing with your friends and sound queues like gunshots and footsteps etc. And that's not all, because of its multiple compatibility features with Xbox One, PS4, PS5, PS3, PC Mac, and laptop makes it an ideal choice for gaming.
Runmus Gaming Headset Review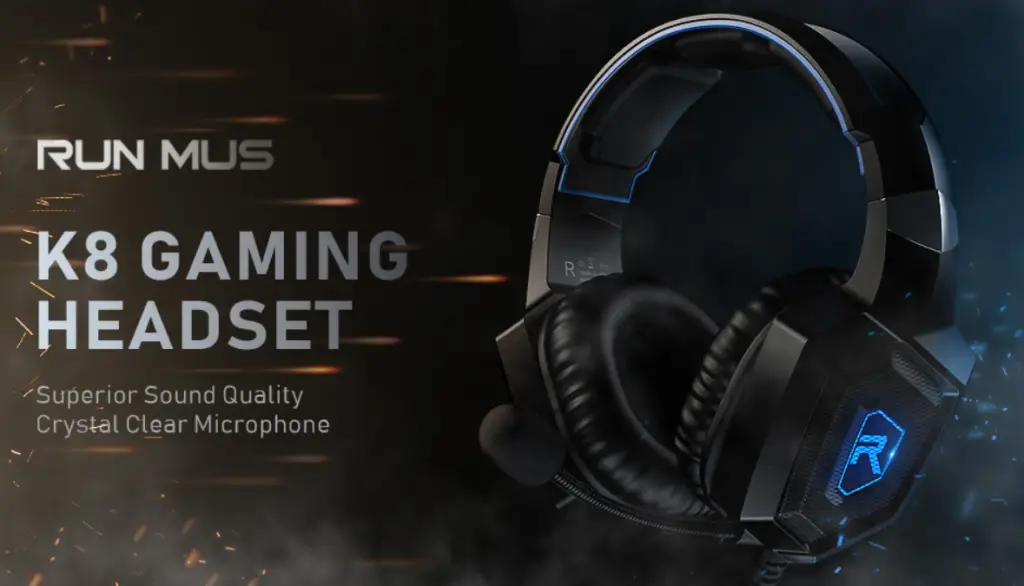 Runmus K8 has many features and impressive specifications. Wearing bulking headphones can be tiring Runmus K8. However, it only weighs 12 ounces. Runmus K8 is exceptionally lightweight. It is the most popular gaming headset. In comparison to other gaming headsets, Runmus K8 is lightweight and less expensive. The comfortable fit and beautiful design aesthetics with clear and anti sac sound make it worth the money.
Tech Support 24/7
Ask a Gaming Expert Online
Connect with the Expert via email, text or phone. Include photos, documents, and more. Get step-by-step instructions from verified Tech Support Specialists.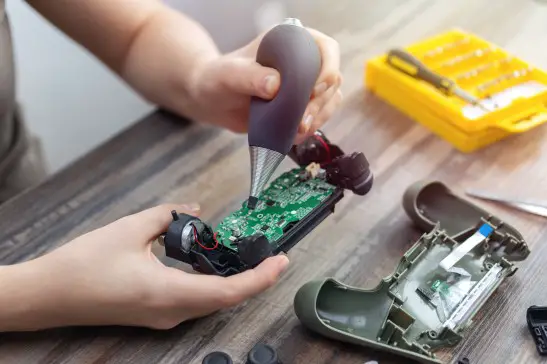 Design
The design, which might seem bulky in appearance, is relatively lightweight. It comes mainly in black color, but it is also available in camouflage design and a few more colors. It also has an aesthetic touch of blue LED lights on both sides.
The purpose of this LED light is to show that a microphone is off or on. The earpads give a nice snug feeling by ear cupping furthermore avoids sweating your ears. It increases your comfort level for optimal gaming. You also can increase and reduce the size of the headband to fit you accordingly.
Sound Quality
This gaming headset offers omnidirectional noise-canceling features that allow sound to be crystal clear. It avoids the attention diverting sounds from hurdling your game. It also improves the communication proficiency with your comrades during game battles.
This headset possesses a 50mm dynamic audio driver. Thus, it provides good sound quality, whether its usage purpose is of gaming or for music. For the experience of surround sounds, this headset is installed with 7.1 Audio IC and delivers a frequency range between 20Hz to 20Khz. It allows you to experience the virtual world as a reality.
Microphone
The microphone is a crucial component of any headphones. While gaming, a microphone is necessary for communication and to generate an instruction to your teammates. The microphone of this headset transmits the commands among players flawlessly without lag and disturbance. The microphone is also adjustable.
Compatibility
You do not have to buy a separate headset for each device; instead, you can use Runmus K8 for many devices. It shows compatibility with Android devices, Xbox One Controller, Xbox 360, PS4Mac OS PC, Windows PC, Nintendo Switch, Nintendo 3DS LL/3DS, and other devices as well. Plug in a Runmus K8 headset into your desired device and experience the world of gaming.
Audio Cable
Runmus K8 consists of a black-knitted audio cable of premium quality. It does not break like other plastic audio cables. Furthermore, the audio cable is knitted, which is to offers more durability. You can turn on the LED lights with an audio cable by converting it into a USB cable. It also works as the UBS connector.
Price
Usually, things are available at a lower price. We do not have many exceptions from them. However, this is where the Runmus K8 gaming headset proves you wrong. It's among the top gaming headsets for 30 dollars. Sometimes you might purchase it on sale.
This gaming headphone focuses on users' comfort. Offering expensive features at a low price is such a steal. On purchasing the Runmus K8 gaming headset, you will receive the headset in a box with a microphone, manual, and guide.
[i2pc][i2pros]Afforable Adjustable microphone 5mm drivers Quality microphone Soft ear pads Noise-cancellation feature Suitable for mixing [/i2pros][i2cons]Average bass[/i2cons][/i2pc]
Difference Between A Normal Headset and A Gaming Headset
A gaming headset is equally important as other computers, and gaming devices are keyboard, mouse, graphic controller, etc. In comparison to normal headsets, gaming headphones are a game-changer. It makes the sounds like gunfire, explosions, and footsteps, etc., a vivid image.
You can not use a loudspeaker for gaming purposes as it will create disturbance in your surrounding with all the firing and explosions. With the help of the surround sound feature, it allows you to know about sound direction, and it helps you detect the enemy's location.
You also communicate through headphones with a microphone, and this feature is not available in speakers. Gaming headset provides you exceptional sound qualities, making the sound crystal clear and crisp, which is something normal headsets lack.
Most of the Normal headsets tend to be slick and thin, making them lightweight. They are more used for watching movies, documentaries, and music. At present, with the growing demand for headsets, they are also coming out as wireless.
They can be connected through Bluetooth, which makes them handy and portable. Wireless headsets are becoming popular both in normal headsets and gaming headsets. Wireless gaming headsets are expensive, but due to latency issues, the gamers avoid buying wireless headsets.
FAQs
Is the Runmus gaming headset good?
Yes, the Runmus gaming headset is good since it possesses features like noise-cancellation, omnidirectionality, surrounding sound, etc. It is also lightweight, and you can get them at a low price. These sorts of features are required for virtual gaming.
How much is a Runmus headset?
The price of the Runmus headset varies from different versions. However, the Runmus K8 gaming headset ranges from 20 to 30 dollars. It is quite popular for its budget-friendly quality.
Do you have to charge Runmus headset?
No, the Runmus gaming headset does not charge as it does not possess batteries. It comes with a plug-in USB cable that you can connect with your devices.
Conclusion
To experience the virtual world, you should get a pair of Runmus gaming headsets. It has impressive features that allow beginners to establish their gaming profession. It also offers optimal comfort for lengthy gaming sessions.
(Visited 181 times, 1 visits today)
Max Anthony
Mainly Max Anthony is an athletics tutor & lives in Texas but that's not it. He's is also a music producer, content creator, record producer, writer, and session musician. He has been producing music and engineering at a lower level for over 5 years. His passions include quality music gear and that's what he loves to write about on HifiBeast. (
Shoot him an email now
 )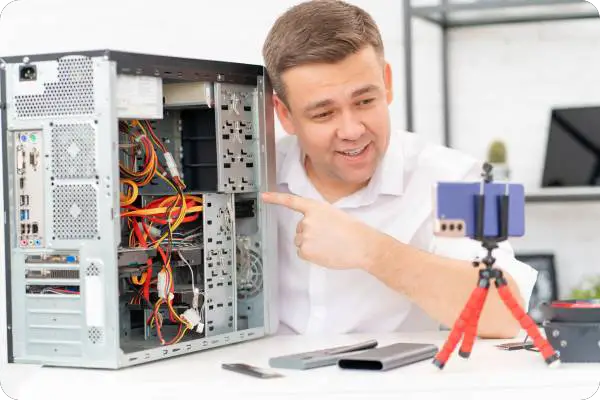 Chat With A Technician For Personalized Help
Help with setup and starting issues, blinking error lights & all your repair needs in just minutes
Ask a Repairman Live Now