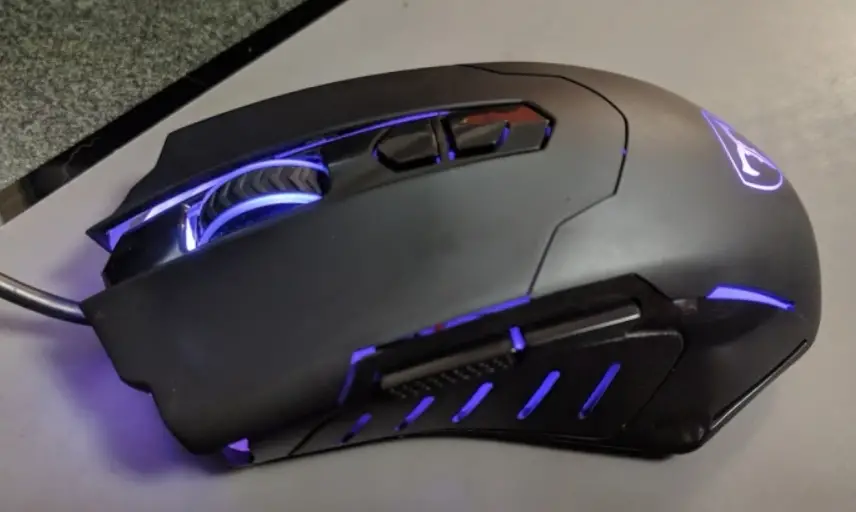 An absolute choice for a unique gaming experience, pictek mice have turned the tables on the competitors. It is ideal for those who are set on a budget and pays off in the long run. Furthermore, it comes with a high 7200 DPI and seven mouse buttons, which are permeable. These are some of the major highlights of this supreme-quality mouse but there is a lot more that you would not want to miss. So stay tuned! The hunt for gaming mice is ultimate and only passionate gamers know the thirst to get their hands on the best mouse in a budget.
What do you look for in an ideal gaming mouse?
Before buying a mouse, you need to look out for certain things:
Your grip style
The type of grip you have or want to have on the mouse determines the shape, structure, and weight of the mouse. Comfort is the prime factor here and due to it three types of grips exist. These are palm, claw, and the fingertip grip. On the whole, the former two grips support a heavier and bigger-in-size mouse. The latter corresponds to the contrary.
Claw grip: allows rapid clicking, not as comfortable as the others but provides a stable position and you don't get tired easily
Palm grip: offers total glide control, is more comfortable and relaxing but is not as fast as the other two
Finger-tip: it is the fastest of all types and moves in no time, however, it's not as accurate and provides slow glide
Playstyle
This includes two basic questions; what games do you play and how often your mouse is required for action. Certain games (multiplayer and arcade) don't allow you to compromise on things like additional buttons, quality, and agility of glide, jitters, etc. Similarly, the duration of mouse action determines what sort of sensitivity you require. DPI and LOD are some features that depend on this question. If we are to demarcate the mice on sensitivity, low, medium, and high sensitivity mice are available and differ according to the games played.
Picking the mouse
Once you are done with the pre-buying decisions, it's time for you to go out there and pick the mouse of your choice. You can do it by shortlisting some of the brands and the available products. Get your hands on the most comfortable mouse and learn about its features. Taking it back to the discussion of grip types, you need to know some of the relevant features before you make up your mind.
Claw grip: It offers a mouse with a high arch and a proper thumb indent. It comes in medium to large sizes and the mice may be longer. As of weight, these are the heaviest of all sorts
Palm grip: with the not as high arch as the claw-grip, it is medium in size and comes in a shorter length. Lastly, these mice are medium to light-weight
Finger-tip: this grip style offers a flat arch which is not very ideal for gamers, it is the smallest in size and is very light-weight
Other factors that shape your final decision are:
Mouse material and structure
Glide quality
Types of scroll buttons, also known as wheel encoder
Number and use of extra buttons
Stiffness and permeability of buttons
Wireless or wired
Color, look, and lights (if any)
Technical performance
Never buy a mouse before verifying its performance by all means. Ask the retailer to let you test it before buying it. And don't hesitate as it's your right. Once you are done with all the testing and are satisfied, buy the mouse.
Why Pictek wired mouse?
This programmable device improves the gaming experience many folds due to many factors:
7200 DPI
DPI relates the number of pixels your screen cursor will move per inch of development of the mouse itself. Along these lines the screen size you use will influence the DPI you are after – those with an enormous screen will more probable need a higher DPI mouse. A higher DPI will bring about a bigger mouse development on the screen per inch of development of the mouse.
"The more the merrier" isn't valid for DPI. It is increasingly a matter of coordinating DPI to your specific client style, the game you are playing, and your screen size. Your affectability style (high, medium, or low) will generally figure out what DPI extends you will feel most great utilizing.
Mouse 'affectability' is likewise used to depict DPI, however, there is a little distinction. DPI alludes to the mouse equipment and capacity of the sensor in the mouse. Though affectability is a product balanced setting. Modifying mouse affectability along these lines can give you a similar impact as having an alternate DPI mouse, which is the reason a few people utilize the terms conversely.
PICTEK is available in five DPI levels, 1200, 2400, 3500, 5500, and 7200. Not only this, but you can also change and control the DPI from two of the seven permeable buttons on the mouse. This allows you to adjust sensitivity and responsiveness at the desired speed.
Polling rate
The polling pace of your mouse is essentially how regularly it reports its situation to your PC. It is estimated in Hertz, so for instance a surveying pace of 500Hz methods the mouse is being surveyed 500 times each second, or every 2 milliseconds.
Higher surveying rates are professed to be progressively precise, yet as a general rule the 1-8 milliseconds distinction is irrelevant contrasted with your human reaction times and web inertness (which can both be in the several milliseconds extend). Responsiveness too high can in reality hinder your PC pointlessly on the grounds that your processor is continually refreshing the cursor position of the mouse, so it's acceptable to search out a fair compromise.
The polling rate of up to 1000 Hz promises high-speed, agility, and smooth movements of the mouse. It also accounts for more accuracy that makes this mouse better than any ordinary mouse.
Programmable mouse buttons
All of the seven buttons on PICTEK are programmable which means none of it is without purpose. Key features of this mouse are:
These buttons support macro editing and provide angle snapping. It is intended to expand the dependability of your cursor on the screen, however, it's a component that numerous gamers don't care for in light of the fact that it can meddle with things like exactness pointing. It essentially works by 'snapping' your client contribution to a specific edge inside resilience
The buttons make the mouse intelligent enough to meet gamers' expectations.
This mouse is compatible with windows 7,8,10, CP, Vista, Linux, etc
LED backlight
An exhilarating backlight with 16 million color options is installed in this mouse adding a lot to its appeal. You can set the color according to your style. A switch on the button allows you complete control over the backlight and you can turn on/off the light according to convenience.
Sensor-support
There are two unique classes of sensors – laser and optical. Data in this field is befuddling; the two kinds have their advantages and disadvantages, and determination appears to boil down to individual inclination.
Laser type sensors have high precision with regards to following, however they should be utilized with smooth hard surfaces. They can issue with their lift-off separation that may influence mouse following for certain clients.
Optical sort sensors appear to be additionally sympathetic with regards to kind of surface utilized and furthermore track dependably enough for gaming purposes. PICTEK is supported by an HD sensor. This optical sensor makes it smart enough to swiftly switch its mechanism for different games. In conclusion, this mouse is ideal for use if you like to play games of different levels and nature.
Convenient design
PICTEK with even and smoothed out design gives an agreeable hook hold configuration, long haul use without weariness. The top decision for PC game players to keep your hold firmly during gameplay. It offers an astounding cool wired PC gaming mouse for easygoing gamers.
PROS of using this mouse
Many of its definite perks are mentioned throughout the text. Abridging it all, the mouse has:
On-the-move DPI adjustment and selection; provides you with accuracy, agility, and desired sensitivity depending on the game you are playing
Many of the PICTEK mice are compatible with all versions of Windows, LINUX, and some versions of MAC
It is packed with highly programmable and customized buttons, each with a defined purpose. These buttons are:
Cons of PICTEK
The only problem with this mouse is that the feeling cord is not of superior quality and needs to be updated. Also, many of the mice are not compatible with MAC systems.
In conclusion
Pictek's mouse is an incredible decision for gamers who need to spare a couple of bucks without relinquishing amazing execution. For just $20-30, you get a 7200 DPI mouse with customizable DPI, a flexible surveying rate, and seven programmable catches. And it may not be in comparison with the expensive alternatives but sounds and feels a lot like them.
(Visited 154 times, 1 visits today)